CUSTOMER SATISFACTION CERTIFICATE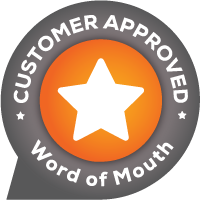 ProTime Savers
100% of customers recommend ProTime Savers
Customer Reviews for:
ProTime Savers
08 Aug 2013 Anonymous from Blue Haven We used ProTime Savers to clean my mothers house and I have to say they were the friendliest and most helpful I came across. Evelyn made us feel at ease straight away and not only was the customer service amazing, the cleaning job of my mothers house was beyond words. The job that was done exceeded our expectations and would highly recommend ProTime Savers to anyone within their area. The business name says it all. Thank you!
Details:
Kellyville Ridge, NSW, 2155
Tel: 1300112549
ABOUT Word of Mouth
Word of Mouth is Australia's No. 1 business reviews website. It's the best way to find out what businesses are really like before you use them. All reviews are from real customers (we have several ways of checking), giving consumers a clear understanding of the business' track record.
Businesses on the Happy Customers Program actively encourage transparent feedback and you can be sure you're choosing a business that makes customer service a priority.
BUSINESSES
Want a page like this? If your business provides good service, the Happy Customers Program can build trust and increase sales.