CUSTOMER SATISFACTION CERTIFICATE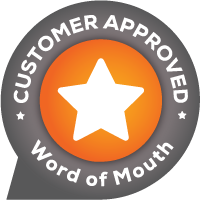 Fireplace Corner Pty Ltd
100% of customers recommend Fireplace Corner Pty Ltd
Customer Reviews for:
Fireplace Corner Pty Ltd
18 Nov 2016 jessieg913 Great product and service all the staff friendly and knowledgeable, would recommend this service to anyone looking for a heater.
16 Mar 2016 marekg All staff in the shoop were eazy to talk with, wery helpful and professional. We highly reccomend it to anyone. Marek & Krystyna Golinski
16 Feb 2016 peterf112 Really great service - good advice, excellent pricing, on-time delivery. Very friendly staff. Our house is in Albany WA, so had most of my discussions with staff over the phone and by email. We ordered a Jetmaster 850-Low open wood fireplace which looks great and works well. Fireplace Corner were very responsive and helpful, and organised freighting for us. Later when we had technical questions regarding installation, they were ready to discuss and give us good advice over the telephone.
19 Aug 2015 johnh506 We Just wanted to say a Big Thanks for a fsntastic job and product. Jenny & John (Baldivis WA)
10 Jun 2015 moniquea410 We purchased a wood fireplace. Our experience with Fireplace Corner was very pleasant. The staff were very professional, knowledgeable and friendly. The showroom was well set out. I would highly recommend their services.
08 Mar 2015 jeffc13 from Wembley Had a great experience with the team at Fireplace Corner. They were very helpful form the first call right to the end and were very patient when we kept changing our mind regarding product, always working with us to get the best result. Would have no hesitation recommending them!!
12 Feb 2015 alexc36 from Rivervale Purchased & had installed Heat & Glo gas fire place. Best price found & quality of installation excellent by a very thorough installer Craig.
18 Nov 2014 annieb14 Leanne was extremely helpful in helping us purchase the right fireplace for our new house, as we had to do a lot by phone due to being 800km's away from Perth. She helped arrange transport of the fireplace down to Esperance for us. It was great to get someone like her who knew her products well. Thank you again to Leanne
02 Oct 2014 gregh27 from Floreat supply and installation of a gas fireplace. The work was completed on schedule in a professional manner by a very tidy and careful tradesman.
Details:
Perth, WA, 6000
Tel: 0892282600
ABOUT Word of Mouth
Word of Mouth is Australia's No. 1 business reviews website. It's the best way to find out what businesses are really like before you use them. All reviews are from real customers (we have several ways of checking), giving consumers a clear understanding of the business' track record.
Businesses on the Happy Customers Program actively encourage transparent feedback and you can be sure you're choosing a business that makes customer service a priority.
BUSINESSES
Want a page like this? If your business provides good service, the Happy Customers Program can build trust and increase sales.